News
Dane crowdfunding his way to an icy success
---
This article is more than 8 years old.
The Icebreaker could be the next step up from the ice cube bag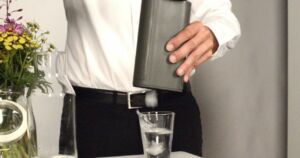 Clubs, party hosts and drink aficionados could very well be acquiring a nifty little addition to their 'tool kit' in the not too distant future.
Just over 30 years after Erling Vangedal-Nielsen revolutionised the global drinking scene with the invention of the ice cube bag, Kim Jensen has followed in his Danish compatriot's footsteps with a new and sleek ice cube dispenser: the 'Icebreaker'.
Jensen turned to the crowdfunding site Kickstarter in September for help to fund the development and marketing of the Icebreaker. That quickly turned out to be a useful move.
Hoping to raise 200,000 kroner within 45 days, the Icebreaker has already generated close to 500,000 kroner with ten days of crowdfunding time still remaining. Check out the Icebreaker Kickstarter page here.
"We only have one shot at showing the world that this is for sure the evolution of the ice cube tray – it has to work smoothly in order to eliminate the obstacles with the existing solutions," according to Jensen.
READ MORE Danish crowdfunding bid to send a rocket to the Moon
From Texas to Thisted
Jensen said he got the idea when he lived in Texas where he could easily get ice cubes from his fridge – something not possible with many fridges in Denmark.
The Icebreaker is expected to be available in shops next summer for a price of about 300 kroner, although backing it on Kickstarter will get you the product even earlier.
"The Icebreaker is about the same size as a normal ice cube tray," according to its description.
"You turn the lid and fill it with water. You close the lid and put it in your freezer in any orientation without any water leaking out. When the water has frozen, you take the icebreaker out of the freezer and rotate the lid to dispense the ice cubes out one by one into your glass."