News
Danish coin could fetch record auction price
---
This article is more than 8 years old.
The only known example of its kind, the coin has been valued at 1.2 million kroner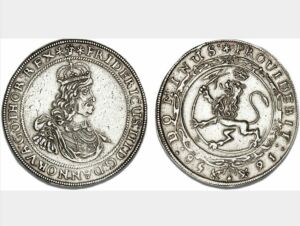 An impressive Danish coin collection contains a unique coin that could fetch a record amount at auction in Denmark next month.
The coin (see it here), which is a Double Taler from 1658 and was minted in Norway during the reign of King Frederik III, has been valued at 1.2 million kroner by the auction house Bruun & Rasmussen (B&R).
The coin, which is in excellent condition, is one of over 800 coins (see the entire collection here) and is the only known example in the world.
"Regardless of whether you are a collector of coins or not, you should allow yourself the unique pleasure of studying cat. no. 447 at this numismatic auction," B&R wrote. "The coin is a double speciedaler struck in Norway in 1658 under the Danish King Frederik III.
"'Unique' – hardly any other word has as enticing a sound to a coin collector's ear. Unique main types can with few exceptions only be seen in museums, and for even the greatest collectors the ultimate boon would therefore be a piece, about which one could say that it was 'unique within private collections.'"
READ MORE: Collection of vintage cars uncovered in Danish barn
Casualty of war?
King Frederik III is on one side of the coin, while the other portrays the emblem of the Norwegian lion with an axe in its paws.
It is believed that the coin was supposed to be part of a presentation piece for Frederik III's art chamber in Copenhagen, but never made it there – possibly due to the outbreak of the Dano-Swedish War.
The collection also includes coins from the Viking Age, rare bank notes and historic medals.
The auction will be held at Baltikavej 10 in the Copenhagen district of Nordhavn on November 3 from 10:00-18:00.