Bars
Where coffee enthusiasts fall in love
---
This article is more than 8 years old.
Relaxing at Risteriet as the beans roast away
There is no doubt the baristas in this coffee basement just around the corner from Halmtorvet know exactly what they are doing. With more than 10 years of experience handling freshly-brewed coffee and providing an excellent selection of beans and equipment, Risteriet is a mecca for all coffee-lovers.
Their first branch on Studiestræde opened its doors in 2004 to primarily just be a coffee shop, but it went on to sell machines and a variety of aromatic beans. Following its healthy success, they opened up a new shop on Helgolandsgade, just near the main train station, which enables them to also serve pastries and snacks to passing commuters.
Rethinking cold coffee
Upon our visit to Risteriet, we thought it rude to try anything other than their house specialties, and they didn't disappoint. Their very own blend of cappuccino, complete with a distinctive froth design, was nicely presented. But the standout was their 'cold brew'. It is brewed using only cold water and Kenyan beans that are lightly roasted.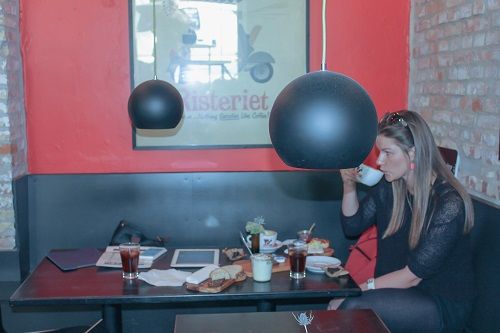 According to manager Fie Berlin, it is unlikely cold coffee can be brewed in this way without having a bitter aftertaste. However, the drink has just the right amount of bitterness and also has a hint of sweetness in it. You will never look at iced black coffee the same way again.
Home-baked goodness
The combination of their freshly-roasted coffee and home-made pastries are divine. For only 90kr, they serve a morning plate on their menu that includes your selected drink of either latte or cappucino, along with bread, butter, cheese, croissant and their own yoghurt with compote and granola.
This might sound like quite a light meal for most people, but we were stuffed after breakfast. Fie served us their home-made brownies as well as an extra something just to top it off.
Warm and cosy
Every sip from a beverage tastes even better when the atmosphere is calm and relaxing. A lot of the regulars at Risteriet are local office workers or freelancers who enjoy working quietly in the spacious surroundings over a cup of coffee, taking advantage of the free wi-fi. Pleasant soft music meanwhile sets a nice mood. While the lighting is dim, it gets enough sunlight from its big windows.
All in all, it was a pleasant experience visiting Risteriet and we won't be hesitant about returning. Enjoying a cup of freshly-brewed coffee in good company and a cosy atmosphere – what could be better than that.