News
Danish archaeologists playing pivotal role in restoration of Syrian culture heritage
---
This article is more than 8 years old.
Using extensive documentation, the team are helping to reconstruct the ancient city of Palmyra, which was destroyed in August by Islamic State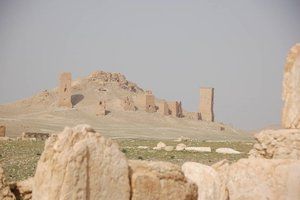 A Danish research project is playing an important role in the restoration of the ancient city of Palmyra, a UNESCO world heritage site in Syria that was destroyed by Jihadist militants from Islamic State in late August.
The extremist Islamic organisation blew up two ancient temples and three unique tower tombs that had survived for 2,000 years.
The most prominent of them, the Tower of Elahbel, was four storeys high and could allegedly accommodate up to 300 sarcophagi.
Since 2012, researchers from the Aarhus University have been compiling a detailed digitalised inventory of the Palmyrene sculptures for the Palmyra Portrait Project, and now they hope their extensive documentation can help restore the city to its pre-civil war state.
So far, the researchers have collected documentation about more than 3,000 Syrian tomb portraits and about the buildings where these portraits were kept.
Tracking stole items
"The project will contribute to the reconstruction of Palmyra before the civil war," Rubina Raja, an archaeologist and senior researcher at Palmyra Portrait Project, told DR.
"With our documentation at hand, we can provide an overview of what has been destroyed."
The documentation can also help to track stolen Syrian heritage items that have been sold, both legally and illegally, since the civil war in Syria broke out in 2011.