General
Fast food goodies for those not in a MAD rush
---
This article is more than 8 years old.
For those who like to be in America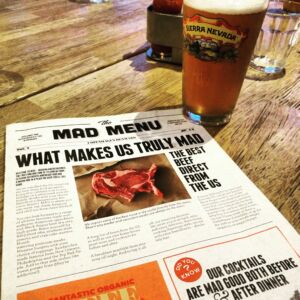 If there is something that I am MAD about, it is America. I have had a fascination with the country since I was young, so finding a mini State right next to Tivoli was a dream come true.
Smiling, spacious, stately
As you enter the restaurant's glassy facade, your first impression is that you are in a cool modern bar where people are enjoying cocktails and beers. No-one seems to be eating. So where is the food you might think!?
Immediately, we were greeted by a smiling enthusiastic hostess, and already I felt like I was back in my adopted homeland. She asked where we would like to sit, and we opted for the upstairs section, which I definitely recommend if you're there for dinner.
Upstairs MAD is spacious in a way that you never feel like you're too close to any of the next-door tables. It's like each one has its own personal space, which I find comfortable as I hate crowded restaurants.
It was like we had our own private spot next to the window overlooking the lights and Halloween decorations that Tivoli has at the moment – a perfect autumnal vista you could say. And with such large windows, splendid views are guaranteed wherever you sit.
Once seated, Lone, our waiter for the night, introduced herself in Danish, before effortlessly switching to a sweet American accent when we made it clear we didn't understand. Even now, I'm not sure whether she was American – her personification (from looks to accent) was worth an Oscar if not she looked and acted like the all-American gal.
Not a bad start
Americans love their beer, so to keep the experience authentic, we opted for their home brews. We started with the Indian Pale Ale (my absolute favourite) but my partner then dared to try the wheat beer with a slice of lemon after it was especially recommended by Lone. I stayed with my original choice because I like to stay on the same track, but I must say that from just one sip it tasted tremendously good.
To go with the pint we greedily tucked into our first starter, the chicken wings in barbecue sauce. A fun, messy and tasty plate, it was fun getting our fingers dirty, and they were not too filling either. Next came the crab cakes, a recipe originally from the state of Maryland but served at MAD with a different twist and a green salad. They tasted heavenly – great for sharing or to be gluttonously devoured by one.
Call me the Burgermeister
Approaching the mains, it was hard to resist the steaks and original New Orleans sandwiches, but mission impossible looking at the massive burgers. And our choices – the Smoked Bacon and Cheese Burger and the Chili Cheese Burger – didn't disappoint.
Our jaw dropped when the plates arrived at our table and the enormity of the task ahead hit home. Rest assured that the toasted shiny bread (I could see my reflection!), homemade burger, melted cheese and crunchy bacon found a grateful home.
For sides we chose sweet potato fries with chipotle chilli mayo, suggested again by Lone. They were addictive – just like she promised. And the onion rings sampled with barbecue sauce were a match made in heaven.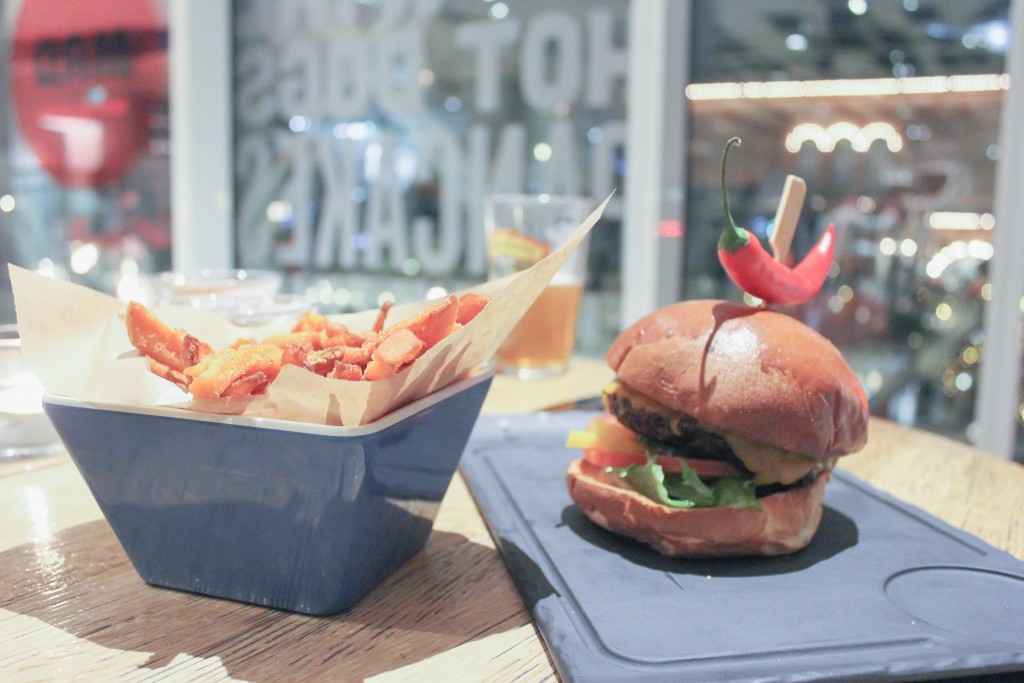 State of Oreo bliss
But they saved the best to last – sit down, you might need to after you've read this. Now, picture Oreos. Then a cheesecake. Who doesn't love Oreos and who doesn't love cheesecake? Put them together and boom! You have an amazing combination.
So even if you are too full after those massive burgers, don't call it a night without trying their Oreo cheesecake. Crunchy, and not too sweet – just like a giant Oreo in fact. Unforgettable!
After all that delicious food I would be MAD if I didn't come back, and YOU are if you don't stop by!
Seriously, as I write this, I want more of that cheesecake, more of those sweet potato fries …. mmmm, the American dream.