News
Hospitals not doing enough to advise parents of babies with Down syndrome
---
This article is more than 8 years old.
Couples feel pressured to have an abortion when other options aren't offered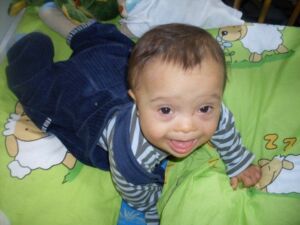 Several hospital doctors and administrators have admitted they have failed parents with Down Syndrome. For many years, the advice to expectant parents has too often been to have an abortion.
"It is quite clear they have not been understood or listened to," Sonja Kindt, the head doctor at the Hospitalenhed Midts women's section, told DR Nyheder. "It becomes a question of right and wrong, and of course that is not what it is."
Kindt said that she "regrets" that parents have not received the answers that they need.
READ MORE: Down Syndrome heading for extinction in Denmark
No choices offered
Rules established by Sundhedsstyrelsen, the board of health,  say that parents should be given what they need to make an informed choice.
Parents say that in many cases they are not being given information, just an appointment for an abortion.
"I didn't feel that anyone listened to me," Maja Rand, a parent of a child with Down Syndrome, told DR Nyheder. "The advice from the hospital was to terminate the pregnancy."
Doctors at hospitals in Randers and Horsens also said they had failed the parents of children with Down Syndrome.
"This is incredibly distressing to hear," Jette Seidelin, the head doctor at Hospitalsenhed Horsens, told DR Nyheder. "It is important to us that couples get the information they need to make the right decision, and that has not been happening in this situation."
Seidelin denied that hospitals were attempting to discourage parents from having children with Down Syndrome.
"That is certainly not our intention," said Seidelin.
Sundhedsstyrelsen said it will insist the guidelines for advising parents dealing with the potential of a child being born with Down Syndrome are complied with.