News
London to host Nordic culture festival
---
This article is more than 8 years old.
Southbank Centre chosen as the setting for the Nordic Cultural Project in 2017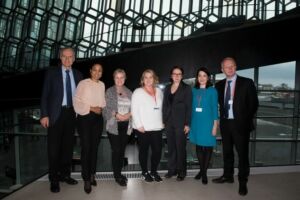 The Nordic ministers of culture have chosen the Southbank Centre in London to host the Nordic Culture Project in 2017.
The Nordic culture ministers, including Denmark's Bertel Haarder, were gathered in Reykjavik, Iceland to make their decision that aims to promote Danish, Swedish, Norwegian, Finnish, Icelandic, Faroese and Greenlandic values and culture outside Nordic borders.
"It is a great honour for the UK and Southbank Centre to have been chosen for the Nordic Cultural Project in 2017," said Jude Kelly, the artistic head of the Southbank Centre.
"Southbank Centre is perfectly placed to celebrate the very best of Nordic culture through our award-winning festival program, and we are delighted that this year-long partnership will enable us to present a truly authentic cultural exchange showcasing the richness and diversity of the Nordic countries, including the more 'hidden voices' of Greenland, Åland and the Faroe Islands."
READ MORE: Government eyeing massive culture slash
Playground London
Kelly revealed that the project will have the theme of 'play' and will involve everything from outdoor play and literature to music, dance, performance, design and visual arts.
The Southbank Centre project was chosen from a number of proposals from all over the world, which were screened by about 80 organisations and institutions in the Nordic countries. Criteria such as quality, innovation, local demand and budget underpinned the grounds for the final decision.
The concept draws on earlier experiences with Nordic cultural initiatives – principally the Nordic Cool project in Washington in 2013.