General
November Kids: Plenty to do indoors!
---
This article is more than 8 years old.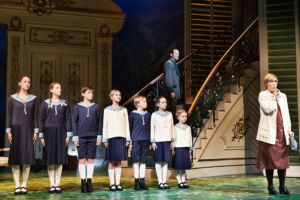 The Sound of Music
almost daily until Dec 31; Det Ny Teater, Gammel Kongevej 29, Cph V; 200-575kr; detnyteater.dk
Immortalised by Robert Wise's film, which won five Oscars in 1965, this all-time classic will be performed until the end of the year at Det Ny Teater.
The musical is directed by Daniel Bohr, who has staged other major classics at the theatre including Annie and Evita. And this time it is the turn of Rodgers and Hammerstein's The Sound of Music, a love story set in the late 1930s in Austria, a country fast approaching war.
Captain Von Trapp is a widower whose wife has passed away leaving him with seven children and a lot of sadness in his heart. He has lost happiness. Maria, a young novice at a convent, who doesn't look she has what it takes to be a nun, is sent by the abbess to take care of the Von Trapp children. The children are really naughty and several frauleins have passed through without success, but Maria wins their hearts and brings music back into the house. And yes, they fall in love.
Expect wonderful performances from the whole cast – most particularly the children and Danish actress Maria Lucia Heiberg Rosenberg, whose depiction of Fraulein Maria channels Julie Andrews to perfection. Also unforgettable is the world-famous Danish opera singer Lisbeth Balslev as the abbess. Her songs are beyond compare and true to her reputation.
Recommended for all ages, it's a night for the whole family, so make sure you don't miss it! (EN)
---
Clowning Around
Every Sun, 11:00-12:30; Cirkus Museet, Hovedporten 6, Hvidovre; tickets included in entry (50kr, kids free); cirkusmuseet.dk
If your children have ever entertained the idea of running away to join the circus – or you've had the same idea yourself – Sunday afternoons now give you the perfect opportunity to do just that.
Cirkus Museet, dedicated to all things circus-related and housing over 110,000 different items of memorobilia, has a workshop dedicated exclusively to clowning around. Join their team and participate in activities such as balancing acts, trapeezing and juggling.
With their help, you and your kids will be performing expert circus-stunts in no time. This is guaranteed fun for the whole family! (SR)
---
Journey to Space
Mon-Sun, time vary; Gl Kongevej 10, Cph V; 144kr, kids: 94kr; planetariet.dk


Calling all aspiring astronauts! Make your way to the Tycho Brahe Planetarium for the screening of NASA's Journey to Space!
The film, which challenges the notion that NASA's space program came to a close when the shuttle programme ended, explores the future of NASA and its plans to land people on Mars!
Featuring stunning visuals and interviews with astronauts, it will fire up your young astronaut's imagination.
Headphones with English audio are available for purchase at the ticket counter. (SR)
---
Children at Sea
every Sunday 15:00-16:00; SMK, Sølvgade 48, Cph K; free with museum entry

Explore the world of Danish painter CW Eckersberg through his nautical-themed paintings whilst teaching your kids what lies under the sea. Participate in workshop activities like miniature ship building and painting. (SR)
---
Stories on Sunday
Every Sunday, 11:00-12:00; Krusågade 27, Cph V; 40-80kr, billetto.dk

BestTellers is Denmark's first venue for professional live storytelling. Let your imagination run free as they take you on adventures and bring your dreams to life. It's touted to be Sunday's most hyggeligt activity! (SR)
---
Medieval Brunch
Nov 1, 11:00-14:00; Esrum Kloster & Møllegård, Klostergade 11, Esrum, Græsted; 98kr; esrum.dk

If you have ever wondered what people ate for brunch in the good old days, head on over to Lazy Sundays at the Esrum Kloster. Stay for games after or take a relaxed stroll amidst the beautiful surroundings. (SR)
---
Ronja Røverdatter
Nov 1-6, times vary; Teatret Zepplin, Valdemarsgade 15, Cph V; 40-165kr, teaterbilleter.dk; zeppelin.dk; in Danish

Discover a tale of forbidden friendship by taking your children to Teatret Zeppelin's staging of Ronja Røverdatter. Highly recommended for both school groups and families. (SR)
---
Yoga for Youngsters
Fridays from Oct 30-Nov 20; Henrik Steffens Vej 4, Frederiksberg; 5 sessions for 550kr; helthelt.dk

If you have children between the ages of 3 and 6, this is a good opportunity to get them moving. Yoga is known to have positive effects on a child's self-esteem, mental focus and motor skills, so sign up today! (SR)
---