General
Inside this Month: The smugness of the lonely column writer
---
This article is more than 8 years old.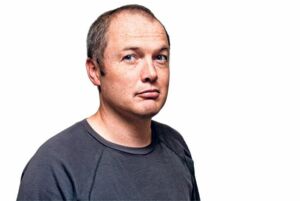 Aren't hookers brilliant! I was very, very drunk. Yes … this month I have been mostly watching rugby.
For all the silky side-steps and last-gasp games, I do wonder if the world organisers spent too much of their youths smashing their faces into a scrummaging machine.
Some of their decisions beggar belief. Like not making the host a top seed and giving Japan just four days to recover from a game. And eight subs. Who thought of that? Sven Goran Erickson? That's like going to an ABBA concert and them being replaced by Brotherhood of Man in the second half.
Three points for a penalty! How is it 2015 and teams that score all the tries can end up losing? Who wants that, other than the sponsors of the posts?
Come on, give the European teams a proper knockout trophy to win – like every four years. Make the elitist Six Nations biennial and give the smaller nations more incentive to grow.
Anti-theft bike and phone
Of course, I write all this as a personal vanity project, so when it all comes true I can say (to myself): "But I suggested that years ago." That's the advantage of having your own column – your correct predictions are documented for posterity, your wrong ones used as chip paper.
I guess it was this innate smugness (being an Aquarian and actually enjoying other people's misery in January while I'm looking forward to my birthday) that led to me choosing this profession – there's nothing better than backing the underdog to the extent people sneer at you, and then seeing it come home.
Kind of reminds me of my cargo bike. Half the side got ripped off years ago and people stare disapprovingly as I cycle past – somebody even tutted me as I went past Mændenes Hjem on Istedgade. I couldn't be more vilified in this materialistic city if I had "Dr Phil cured me of my homosexuality" written on it.
But here's the smug angle. My bike never gets nicked. I can leave it anywhere single-locked and the tea-leafs don't want to know. And it's the same deal with my phone. I lost it on a train, but always knew it would turn up, although there was always the danger someone might actually throw it away.
The wisdom of sequels
John Lennon asked us to "imagine no possessions", and for fans of the fab foursome (not one of our employees who thought the Beatles were a 1970s US rock band with five members), the Danish musical concert Come Together is returning. It's a bit rich calling it Danish as every word was written by the Beatles, but it's apparently not too bad, unlike the sequel, Hey Jude, which I reviewed a few years ago.
READ MORE: Hey Jude, refrain, don't revisit the Beatles ever again!
Also embarking on a run at Tivoli this month is the latest Crazy Christmas Cabaret. While it might not be everyone's cup of tea, I saw it for the first time last year and it made me feel privileged as an English-speaker in Denmark that every year its creator Vivienne McKee sits down to write a new version. Her ability to constantly come up with something new, and not resort to an old one (it started in 1982), is astounding.
Deadlines – McKee has to decide on a topic and a pun-heavy show name in February, just days after putting the old one to bed – can make writers go stale. After all, how many US TV series with just one writer on board have nosedived after the first season because some executive asked them to repeat the magic of their two years of hard graft in just two months?
A long running jump
Imagine if somebody had ordered Rodgers and Hammerstein to write a sequel to The Sound of Music or Motörhead a playing card-themed follow-up to 'Ace of Spades'.
Well, we know what its outspoken lead singer Lemmy, and the likes of The Prodigy and stand-up comedian Dylan Moran from Black Books would have said. Just like we don't need to ask Germaine Greer what she thinks about the new Gerda Wegener exhibition.
Crikey, it would be like asking rugby union's world body to drastically change the game after its most successful ever World Cup. What a cheek!