News
Huge Danish Crown merger on the rocks
---
This article is more than 8 years old.
Tican signs deal with Tönnies instead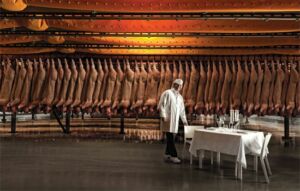 After seven months of intense assessment, the planned merger between the two Danish slaughterhouse chains Danish Crown and Tican has been called off.
The merger was first announced back in February, but as the seven-month deadline for the merger expired without the necessary approval from the competition authority Konkurrencestyrelsen, the deal collapsed.
"We've delivered a number of proposals to be considered by Konkurrencestyrelsen, and even though we consulted the authority regarding what was needed to complete the merger, our proposals were not deemed satisfactory for an approval," said Kjeld Johannesen, the head of Danish Crown.
READ MORE: Danish slaughterhouse giants to merge
Turning to Tönnies
Instead, Tican has agreed to a deal to the transfer of share capital to the German food product group Tönnies.
The new deal is expected to be approved by the EU competition authority some time by the end of this year.