News
An incendiary mix as Volbeat join Rammstein at Tinderbox
---
This article is more than 8 years old.
Danish rockers looking to blast fans away next summer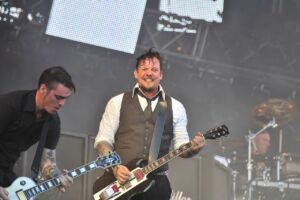 Last week the presence of legendary German industrial rockers Rammstein was confirmed at next year's Tinderbox, and now the music festival has revealed that Danish rockers Volbeat will be joining them.
Last time Volbeat played in Denmark, they played in front of 37,000 fans – one of the largest crowds ever assembled to see a Danish band in Denmark.
READ MORE: Beck's back again, this time heading Northside
Solid trio
Aside from Volbeat and Rammstein, the US rock band The National have also signed up for Tinderbox next summer.
Tinderbox will take place in Tusindårsskoven forest near Odense from June 23-25.
Aside from Tinderbox, Volbeat will also be performing at Nibe Festival as part of their upcoming tour.