News
Storebælt Bridge threatened by climate change
---
This article is more than 8 years old.
Consulting firm recommends higher dykes and more flood protection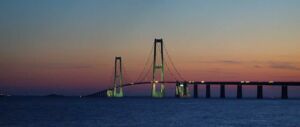 Climate change, sea level increases and flooding is predicted to get worse in the years to come, threatening the safety and structural integrity of the Storebælt.
Engineering giant COWI recommends that dykes around the bridge be raised to almost 3.5 metres above sea level.
Higher dykes
The recommendations are that the dykes at Halsskov in Zealand be raised from their current height of 2.94 metres to 3.45 metres. In addition, a dyke at Sprogø where the trains leave the low bridge and enter a tunnel should also be made higher.
"Climate change requires significantly more planning than in the past," Jan Stæhr, the head of the water and environment division at COWI, told DR Nyheder.
"Since 1890, the water levels have risen by eight centimetres compared to the land. They can be expected to increase by up to 70 centimetres or more over the next 100 years."
Changes just starting
Since the Storebælt Bridge was completed in 1998, a lot of knowledge has been gained about how increased sea levels may affect the Danish coast.
"It is important to secure the Storebælt so we can continue to guarantee safety and prevent flooding of the tunnel during extreme climate events," said Svend Gjerding, the operations manager at A/S Storebælt.
COWI has also said that, in the long run, stronger pumps may need to be installed to remove large amounts of water away from the areas near the ramps.