General
She immortalised herself with a brush long before hubby did it with a snip
---
This article is more than 8 years old.
As an outstanding exponent of art deco, Gerda Wegener was so much more than just the wife of 'The Danish Girl'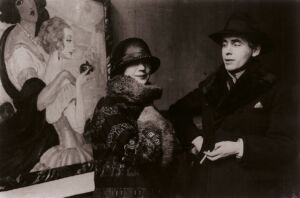 The name Gerda Wegener is probably unfamiliar to most people unless they are hardcore art buffs. However, hot on the heels of the art deco exhibition at Gl Holtegård, a major exhibition at Arken goes a long way in bringing her back to contemporary relevance.
Wegener's life-story is every bit as intriguing as her art. The daughter of a priest from East Jutland, after studying art in Copenhagen she went to Paris where she was part of the avant garde scene during the 1920s.
A bisexual, her favourite model was her husband, the landscape painter Einar Wegener, who later underwent one of the world's first gender-modification operations. The decadence and cultural freedom prevalent in Paris allowed them to live out this unorthodox relationship, in which playing with sexuality and identity were central.
Ahead of her time
Wegener enjoyed her greatest successes as a portrait painter, commercial artist and illustrator for fashion magazines. Perhaps this is one of the reasons that her art has not been given the recognition it deserves.
She was certainly a superlative draughtsperson – a self-portrait painted when she was 12 shows great sureness of technique. Some early works, executed in starkly contrasted black and white with a fondness for the rococo period, show the influence of English illustrator Aubrey Beardsley.
The ink and gouache sketch 'Two women with large hats' clearly harks back to Japanese prints and Edvard Munch.
Like Beardsley, Wegener also produced a number of erotic illustrations. As in much of her work, however, the protagonists always seem to have a disarming twinkle in the eye. There is a distinct sense of fun and joie de vivre in Wegener's work.
Indeed, she made a tremendous impression in Paris when she stayed there during the First World War, contributing patriotic sketches and cartoons for the war effort. She clearly revelled in the social whirl, as several pictures of lavishly-costumed carnival participants in the exhibition attest to.
Einar and Lili
Gerda Wegener almost always painted women, and many of her works feature her husband as his alter ego Lili Elbe, either clothed in spectacular outfits and wigs, or nude (like above in 'A summer's day').
In 'In the Summer heat (Lili)' the naked subject reclines, back half turned to the viewer, with a fan in one hand and on a rococo chair, in the style of an ingres odalisque.
Einar was a competent painter in his own right and there are several of his landscapes of Paris and Beaugency by the Loire on display. However, he became more and more unhappily trapped inside his male body and eventually had the operation that led to his untimely death at 48.
About time
The exhibition collects 178 works, many of which are in private collections. Three of her pictures were bought by the Louvre when she was in Paris, but she never enjoyed that distinction in Denmark.
A major Hollywood film is also pending – 'The Danish Girl' starring Eddie Redmayne and Alice Vikander – so perhaps the time is now ripe for a re-examination of this fascinating artist and Denmark's greatest exponent of the art deco style in painting.