News
Danish island unveils world's largest electric ferry
---
This article is more than 8 years old.
Island to replace its three current polluting diesel ferries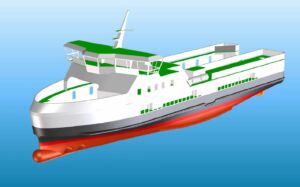 Denmark's efforts to become carbon-neutral in the future means having to make changes to its maritime and shipping industry. On the little island of Ærø, just south of Funen, things are getting greener.
The island has announced it will replace three of its polluting diesel ferries with climate-friendly electric ferries that will become the largest in the world as part of the 'Green Ferry Vision'.
The move is also expected to create jobs locally and Roar Falkenberg, the head of the ferry producer Søby Værft, said the shipyard will hire around 40 employees to get the green ferries ready for 2017.
READ MORE: Ærø green ferry project getting EU millions
Job feast?
In fact, the green ferry project could become the catalyst for a new golden age for Danish shipyards.
"It could be the start of a new job feast for the Danish shipyards," said Jenny N Braat, the head of maritime industry producer association Danish Maritime.
"When we see which job effects it can have in the local arena and which follow-up business can grow from it, then we can multiply one shipyard worker by seven."
Braat expects that Ærø's green ferry project – which is EU-financed – will end up generating jobs for 200 people and will urge other nations to also develop a greener maritime infrastructure.