News
Government ready to tighten asylum laws
---
This article is more than 8 years old.
Rasmussen looking to curb growing influx of foreigners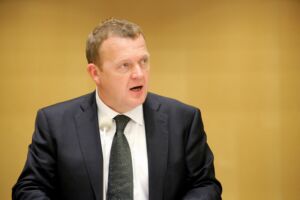 PM Lars Løkke Rasmussen said today he is ready to tighten the rules for those seeking asylum in Denmark.
"The pressure is increasing day by day," Rasmussen said at a press conference. "We accept our responsibility as we must, but we cannot be open to everyone."
Rasmussen said that steps need to be taken to make requirements for asylum-seekers "more robust".
Rasmussen said the duration of residence permits should be shortened, the requirements for family reunions tightened and benefits for asylum-seekers  reduced.
The government said it will ensure that authorities have the tools needed to handle the refugee situation.
"We must ensure that begging does not become an everyday occurrence on our streets," said Rasmussen.
Numbers increasing
Last week alone, nearly 11,000 refugees arrived in Denmark. Rasmussen said that "it is quite clear" the numbers will not decrease unless political action is taken.
"We must take actions that we can follow," he said.
Rasmussen said the government's integration policies have not been working, and that the challenges are "just getting bigger and bigger".
The leaders of all nine parties in parliament have called for a meeting with the PM where he will report on the parts of his package that do not require new legislation and begin negotiations on those sections that will require legislation.
DF supports changes
Dansk Folkeparti head Kristian Thuelsen Dahl took to Facebook to announce his support for the government's moves.
"Finally, the government has come to the realisation the current situation is untenable for Denmark," wrote Dahl. "There are no controls at the EU's external borders, and that shows the importance of Denmark deciding its own rules in relation to immigration."
READ MORE: October was a record month for asylum-seekers in Denmark
Radikale leader Morten Østergaard disagreed with the proposed austerity measures.
"There are sad and useless cuts," Østergaard told TV2. "We need a cohesive effort to find a European solution. This will lead to nothing but more human misery."