News
Denmark hails Myanmar election
---
This article is more than 8 years old.
Aung San Suu Kyi and NLD eyeing landslide victory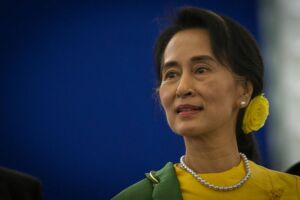 The foreign minister, Kristian Jensen, has congratulated Myanmar on its successful general election this week.
With about 50 percent of the seats declared, the main opposition party in Myanmar, the National League for Democracy (NLD) led by Aung San Suu Kyi, looks to have won a landslide victory.
"I would like to congratulate Aung San Suu Kyi and NLD with what is looking like an impressive election victory," said Jensen.
"The results so far show that Myanmar's population has voted for change. I encourage everyone to respect the election results. Myanmar is still in a fragile reform period that will include democratisation processes with many challenges. But an election is a significant step in the right direction, and Denmark looks forward to continuing to support Myanmar's democratic and economic development in the future."
READ MORE: Annulled Zanzibar election raises Danish concerns
Avoiding historical repeat
San Suu Kyi has reportedly also been congratulated by Myanmar's current president, Thein Sein – a considerable step forward from what happened the last time she won an election.
After the NLD won the election in 1990, the election was annulled and San Suu Kyi was placed under long-term house arrest.
She remained one of the world's most prominent political prisoners, remaining under house arrest for 15 out of the 21 years leading up to her most recent release in late 2010.