News
New book: Gaddafi tried to buy FC Copenhagen
---
This article is more than 8 years old.
FCK's former director didn't want any dealings with the former dictator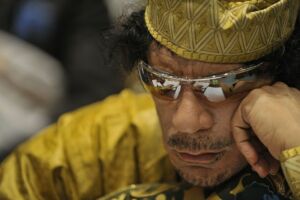 According to a new book about the charismatic former head of Parken Sport & Entertainment, Flemming 'Don Ø' Østergaard, the former Libyan dictator Muammar Gaddafi took steps to purchase FC Copenhagen back in 2006.
The book, entitled 'Exit Parken', revealed that a Swiss lawyer approached Don Ø on behalf of a very wealthy individual who wanted to make an offer for the club. But when Don Ø found out that the individual was Gaddafi, he pulled the plug on the deal.
It wasn't Don Ø's first dealings with the Gaddafi family. At the turn of the century an agent contacted FCK offering Muammar Gaddafi's son Al-Saadi Gaddafi as a player. Don Ø also turned that offer down.
Al-Saadi Gaddafi would eventually go on to sign for Italian sides Perugia, Udinese and Sampdoria, making a grand total of two appearances in four years in Serie A. His father at one stage owned about 7 percent of the Italian giant Juventus.
'Exit Parken' was written by journalist and author David Trads in co-operation with Don Ø and is expected to be published next week.
READ MORE: Danish six-pack attacks Gaddafi
Hannibal rising 
Oddly enough, it's also not the first Gaddafi angle concerning Denmark. Hannibal Gaddafi, the fifth son of Muammar, lived in Copenhagen for a long period from 2004 during which time he attended Copenhagen Business School, placing him in the Danish capital at the same time as his father's bid for FCK.
In 2008, Gaddafi lost a lawsuit against the Danish tabloid Ekstra Bladet, which had reported that that he had overseen the abduction and beating of a Libyan national at the consulate in Gentofte.
Don Ø is also no stranger to skirting the law. In September, he was sentenced to four months in prison for market manipulation that took place during his tenure with (PS&E).