News
Morten Olsen steps down as Danish national team coach
---
This article is more than 8 years old.
With 15 years under his belt, he was the longest-serving boss in international football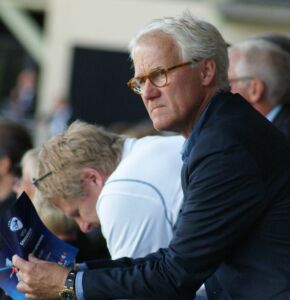 Denmark's national team coach Morten Olsen has stepped down with immediate effect following Denmark's Euro 2016 ousting at the hands of Sweden last night.
An emotional Olsen, who was due to quit anyway next summer, said he was disappointed on behalf of his players for not reaching Euro 2016 and that the responsibility was ultimately his to bear.
"I have great respect for Morten and his results," said Jesper Møller, the head of the Danish football association, the DBU. "So it's important for Morten and myself that the end of his glorious career in Danish football ends in a proper and worthy manner."
"Right now we are all very disappointed that Denmark will be absent in France. And that goes for players and coaches, as well as the rest of us, the fans and everyone in Danish football. The national team and Morten Olsen deserve to play against the best in Europe."
READ MORE: Danes fall to Sweden in Euro decider
End of an era
Olsen, 66, ended up coaching Denmark for 166 matches over a period of 15 years, which made him the longest-serving national team coach in the world. He also won 102 caps himself in a sterling career that spanned almost two decades from 1970 to 1989.
DBU has been firing on all cylinders in its attempt to locate Olsen's replacement and a number of candidates, including Danish legend Michael Laudrup, have been rumoured to be shortlisted.
But this morning, just 12 hours after Zlatan put the Danes to the sword in Parken, Danish media is reporting that Malmö FF's successful Norwegian coach, Åge Hareide, is being lined up as Olsen's replacement.