News
Bomb scare near Denmark's Foreign Ministry was a false alarm
---
This article is more than 8 years old.
Objects taped together in cardboard box aroused police suspicion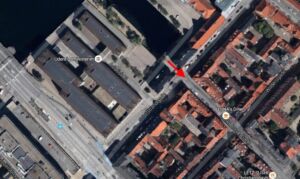 Copenhagen Police cordoned off the area of Christianshavn around the Foreign Ministry on Sunday afternoon due to the discovery of a 'suspicious object', Ekstra Bladet reports.
According to Ekstra Bladet's reporter at the scene, just after midday a military bomb disposal robot was used to investigate a cardboard box lying close to a Peugeot 308 car parked on the corner of Strandgade and Skt. Annæ Gade and police were using megaphones to instruct residents to stay away from their windows.
However, Kristian Aaskov, the Copenhagen Police officer in charge explained that the box, which bore Arabic writing and the text 'Al Fakher' (the brand name of a type of water pipe tobacco) turned out not to contain a bomb but a dummy device stuck together with duct tape.
"There were some objects stuck together in such a way as to arouse suspicion," he said.
"That's what happens in these times. But there was nothing in there that was at all dangerous. But in these times we react."