News
Aarhus veteran cashing in on military gear
---
This article is more than 8 years old.
Soldier finds a niche after deployment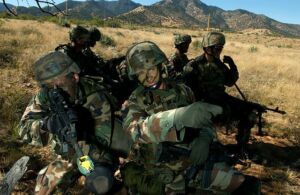 Kristian Juel Rasmussen came back from his deployment with the Danish military in Kosovo and Afghanistan with an idea for a business.
Like many other soldiers, the 29-year-old had used his own money while in the field to purchase gear that the military does not provide.
A growing market
Realising there was a demand, Rasmussen and his childhood buddy Casper Østergaard Pedersen jumped in with both feet and started a business dealing in used and extra gear – a business with sales now estimated at 10 million kroner a year.
Rasmussen's company, GrejFreak, took over 300 sqm of office space just a year ago, and it is already outgrowing its premises.
"We moved into this spot in Viby a year ago," Rasmussen told TV2 News. "We only filed half of the store when we moved in, and now we are just about out of space."
Diversifying
GrejFreak got its start in Pedersen's parents' garage in 2008. His parents also fronted some money to get the project off the ground.
"It was difficult for the bank to understand why we wanted to sell military equipment," said Pedersen.
Although military equipment was the inspiration for the business, these days outdoor equipment accounts for 80 percent of GrejFreak's revenue.
"After we sold military equipment for a few years, we developed a good reputation among soldiers who began asking us for gear that we had never sold before, like sleeping bags and tents for civilian use," said Rasmussen. "It has really taken off."
READ MORE: Sitting in a tin can, and profiting from them too
GrejFreak's founders are just starting to sell to the burgeoning hunting trade, and they are also eyeing the market for fishing gear.