News
Wolves still in driving seat despite loss in Poland
---
This article is more than 8 years old.
A draw at home against Club Brugge next month will likely see the Danes through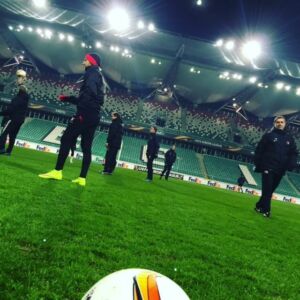 FC Midtjylland may have 1-0 to Legia Warsaw in the Europa League last night, but the Danes are still in the driving seat with one match to go in Group D.
Napoli maintained their 100 percent record by beating Club Brugge in the other group fixture to leave FCM in second place on six points, two ahead of the Belgians and the Poles. The Danes only therefore need a draw and for Napoli to not lose at home to Legia in order to progress to the knockout stages.
"We didn't deliver the performance I had hoped for against Legia," said Jess Thorup, FCM's coach, according to Bold.dk. "Too many of us fell short. The pitch wasn't great, and some decisions were made out there that I am not pleased about."
READ MORE: Napoli manhandle toothless Wolves again
Home field advantage
Legia went head after 30 minutes when Aleksander Prijovic's header left keeper Mikkel Andersen with no chance.
After winning their first two matches, the Danes have now lost three in a row, including two beatdowns by  the Italians.
The next and final round of group stage matches will take place on December 10 as the Wolves take on the Belgians at home in Herning and Napoli host Legia in the other game.