News
Gorm shakes a DFDS ferry loose in England
---
This article is more than 8 years old.
A preview of what was heading to Denmark hit Newcastle on Sunday afternoon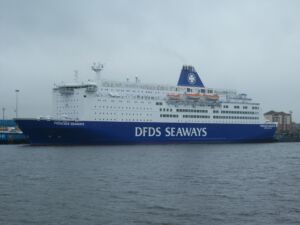 DFDS's ferry service from Newcastle to Amsterdam was delayed on Sunday afternoon after strong winds created by Storm Gorm caused the Princess Seaways to break loose from its mooring and take an unscheduled trip through the port in North Shields.
"The ship broke loose," said DFDS press head Gert Jakobsen. "It took a while to get control of the ship, which hit a pier, sustaining a small hole to the hull."
No serious damage
Residents reported hearing a loud bang as the ship broke loose. No-one was hurt in the accident.
The damage was not serious enough to prevent the ship from sailing again on Sunday night after minor repairs.
READ MORE: Esbjerg to Harwich ferry out of service after quayside crash
"There was no drama," said Jakobsen. "There were no passengers on the ship and the crew and harbour staff were relatively quick gaining control of the ship."
Rare winds
Jakobsen said it took unusually strong winds to tear the ship loose.
"It is very rare that something like this happens," he said. "I cannot remember the last time. Fortunately, everyone onboard knew exactly what to do."