InOut
Museums Corner: a wintry guide for Christmas lovers and haters
---
This article is more than 8 years old.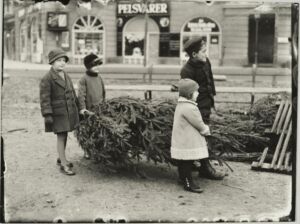 This winter, the museums of Copenhagen give solace to cold hands and feet in a variety of warming Christmas activities.
So if you need a break from all the mulled wine, æbleskiver, and cinnamon sticks, don't sweat it. We've got some contemporary Greenlandic art, cutting-edge urban architecture and romantic landscape paintings in store for you too.
For more Christmas recommendations, visit us at cphmuseums.com.
---
Christmas in Copenhagen
Museum of Copenhagen, Nikolajs Plads, Cph K; open all Dec; free adm; copenhagen.dk

Enjoy the Museum of Copenhagen's merry outdoor photo exhibition at Nikolajs Plads, and make your own sustainable Christmas presents! Experiencing Christmas in Copenhagen like in olden times will leave you feeling jolly for sure.
The beautiful photographs come from the museum's archives and are exhibited alongside stories about the very first Christmas tree in Copenhagen and about how it became customary to give each other presents. At Nikolajs Plads you will also find Remake Christmas, a workshop where you can make your own recycled presents for your loved ones, as well as the trendy Finders Keepers design market.
---
A Storm is Coming
North Atlantic House, Strandgade 91, Cph K; ends Feb 14, open Mon-Fri 10:00-17:00, Sat-Sun 12:00-17:00; 40kr; nordatlantens.dk

In 2013, the government of Greenland repealed the country's zero tolerance on uranium mining. This political decision has ignited a fire in the Greenlandic-Latvian artist Bolatta Silis-Høegh, a fire that spurs on her desire to paint. In her new exhibition Storm, she explores mankind's relationship to – and exploitation of – nature.
Bolatta's bleak paintings exist in a field of tension between the tangible, Greenlandic landscape and the abstract landscape of the human mind, ultimately creating a space in which we can openly confront the fear and anger that is innate in all of us.
---
The Winter City: Rethinking urban spaces
Danish Architecture Centre, Strandgade 27B, Cph K; starts Dec 8, ends Feb 21, open Mon-Sun 10:00-17:00, Wed until 21:00; 60kr; dac.dk

During summer, Copenhagen is celebrated for making phenomenal use of its urban spaces. But in winter, the spirit in the city changes dramatically, and we prefer to stay indoors and hibernate.
The Winter City exhibition at Danish Architecture Centre explores how we can utilise the city's spaces in new ways during the cold months of the year. By rethinking materials, light and heat, new communities and venues can be created, enabling us to enjoy new characteristics of urban winter.
---
A life devoted to art, nature, and beauty
Ordrupgaard, Vilvordevej 110, Charlottenlund; starts Dec 11, ends Feb 21; 110kr, free on Wed after 17:00, open Tue & Thu-Fri 13:00-17:00, Wed 13:00-21:00, Sat-Sun 11:00-17:00; ordrupgaard.dk

The Funen artist couple Johannes and Alhed Larsen built their house in Kerteminde in 1901-02. The living rooms, garden and the flowers on the window sill proved to be an endless source of inspiration for both Johannes and Alhed, and the home became a cultural gathering place for many artists of the time.
Johannes Larsen has made a distinct contribution to Danish art history with his bird and landscape paintings. However, few people know that his outgoing wife Alhed was also a painter. In an attempt to rectify that, Ordrupgaard is dedicating a part of this exhibition to her personal artworks.
---