General
At Cinemas: Unlike the other sequels, Apollo 2 will take you to the moon
---
This article is more than 8 years old.
Remember Brian this Christmas time!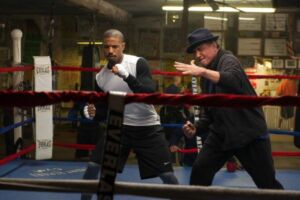 So, no avoiding it now – tis the season to be jolly.
No doubt Sly Stallone is basking in the festive feeling after finding yet another spin on his cash-cow boxing franchise Rocky. Creed is thankfully not a rematch between the old man and a cyborg clone of his dead friend and rival Apollo Creed – but the story of Apollo's son Adonis. Rocky Balboa's role is to sculpt the young whippersnapper into world-class fighter. Sounds credible and – for a franchise that many had written off – it is receiving excellent press.
Also at cinemas is Victoria – a real-time thriller à la Hitchcock's The Rope in which a young Spanish woman flirts with a local in Berlin – after which the night takes a turn for the deadly. There's German and Spanish spoken, but the majority of the dialogue is English. Word is good.
Finally there's Louder Than Bombs – it isn't a Morrissey biopic as you'd be forgiven for thinking, but rather a multi-stranded drama about a family coping with loss by celebrated director Joachim Trier and co-writer Eskil Vogt. See this week's review.
Cinemateket is celebrating the birth of Baby Jesus with Life of Brian at 21.45 this Friday and the rest of Monty Python's cinematic oeuvre over the coming weeks. You can see Monty Python's And Now for Something Completely Different at 17:30 on Wednesday.
There's also a new series that celebrates the life and work of Swedish acting powerhouse Ingrid Bergman. I recommend the one film she made with that other Swedish powerhouse named Bergman – Autumn Sonata is playing on Saturday at 15:00 – which turns a suburban home into a pressure cooker. It's a chamber drama between a mother and a daughter that features career bests from Bergman, Bergman and Liv Ullman – and that's really saying something (dfi.dk/Filmhuset).
If that's not enough intensity for you, 1974 cult classic The Night Porter is playing at Huset (Wed 20:00, huset-kbh.dk) and stars Dirk Bogarde and Charlotte Rampling locked in a power play of a different kind to Bergman's, exploring themes such as sadomasochism and Nazisploitation.