News
Tragic early-morning house fire in Jutland
---
This article is more than 8 years old.
One man dead, woman and children injured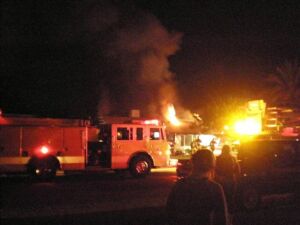 A 30-year-old man died and and a 29-year-old woman and two small children were injured in a fire in a block of flats in Vejen in south Jutland early this morning.
A resident discovered heavy smoke in a stairwell and alerted the fire department at around 5:30.
Three rescued
Firemen rescued two children, aged three and four, along with a 29-year-old woman from an apartment at the property. The children were flown to University Hospital, where they remain in treatment. The woman is being treated at Kolding Hospital.
Police declined to comment on the seriousness of the injuries.
All four people involved, including the deceased man, lived in the apartment.
Police do not yet know the extent of the damage to the building, but the property has been evacuated and the investigation into the fire is continuing.