News
Denmark won't deploy troops to fight Islamic State
---
This article is more than 8 years old.
At least not anytime soon, said the foreign minister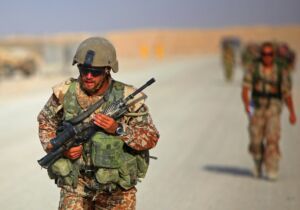 The Danish foreign minister, Kristian Jensen, has announced Denmark will not send military troops to support the United States in the fight against Islamic State, reports DR.
"No other Western country is talking about deploying ground troops and I cannot imagine how Denmark could lead the way," stated Jensen.
The US yesterday asked all the Scandinavian countries for military support against IS.
Part of global coalition
In his response, Jensen emphasised military intervention is not the only solution and should go hand-in-hand with "rebuilding, prevention, anti-radicalisation, and stopping financial flows supporting IS".
Denmark has been an active member of the global coalition, fighting the militant group in Iraq, and will continue its support – exactly how is not yet clear.
In October, Denmark's F16 fighter jets returned home from Iraq, where they had dropped about 500 bombs in the fight against IS.