General
At Cinemas: Come on! Join the Pack!
---
This article is more than 8 years old.
No, not the Hateful Eight or gruesome twosome!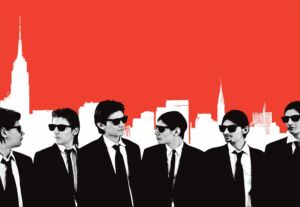 There's been an awakening – have you felt it? Surely it's impossible to notice that the seventh instalment of the billion dollar franchise has landed on these shores.
Following George Lucas's Revenge of the Sith ten years ago, the sprawling space opera has finished going backwards (although next year's Star Wars: Rogue One is technically a prequel – it's set between Episodes III and IV) and has begun a new sequel trilogy to continue the events seen in 1983's Return of the Jedi – this time without Lucas's involvement.
Of all the Star Wars films, that one had the most fully resolved ending, but when there's money to be made, there's movies to shoot. Does Star Wars: The Force Awakens make the grade? See this week's review.
Also out this week (with a fat chance of anyone seeing it) is Justin Kurzel's gorgeous retelling of the play that shall not be named. Starring Michael Fassbender in the title role, Macbeth is heavy on the visuals and light on text – the result being not entirely satisfying.
Opening on Christmas Day is Joy, David O Russell's latest offering to star Jennifer Lawrence, Bradley Cooper and Robert De Niro. One can only hope it shines as bright as Silver Linings Playbook and avoids the same pitfalls as American Hustle.
Also opening on December 25 is The Wolfpack, a fascinating documentary that chronicles the bizarre lives of the Angulo brothers – a group of siblings locked away from society by their father in an apartment in Manhattan. Their only window to the outside world was movies, which they spent their childhood re-enacting. Touching, funny and disturbing, this would be my recommendation for the holidays.
Finally there's Quentin Tarantino's new western, The Hateful Eight, which opens on January 7 and is already courting controversy.
For those of you festively inclined, there's a slew of Disney classics at Cinemateket over the coming weeks – and Christmas wouldn't be Christmas without Frank Capra's It's a Wonderful Life, which is screening this Saturday at 12.30 and Sunday the 27th at 14:00. See dfi.dk/Filmhuset for more details.