News
Russia hoping to get Danish approval for expansion of Nord Stream gas pipeline
---
This article is more than 8 years old.
Nine EU countries warn against the plans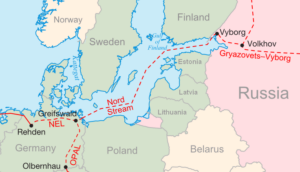 The state-controlled Russian gas giant Gazprom plans to double the capacity of the Nord Stream gas pipeline that runs along the bottom of the Baltic sea between the town of Vyborg in the Russian Federation and Greifswald in Germany.
Gazprom hopes to add some 1,200 km of pipeline along the existing piping that runs through Danish waters south of Bornholm, and it therefore needs Denmark's permission, reports Berlingske.
Tense showdown
That puts Denmark into a key position in a tense political showdown in Europe.
While Russia believes the expansion would improve Europe's energy security, nine central and east European countries are warning against the plan.
Some strongly oppose
According to them, Russia would transport less gas via the existing pipelines in Ukraine, which also lead to central Europe, and Ukraine would lose up to 15 billion dollars annually on transit revenues.
The central and eastern European countries together with Italy are prepared to raise the issue at the EU summit that is taking place today and tomorrow, where the current EU sanctions against Russia look set to be extended until the summer of 2016.
It's a hypocrisy
The Italian prime minister, Matteo Renzi, said extending the sanctions while expanding Nord Stream is a hypocrisy and also contrary to the intention of creating strong European energy union.
Irina Vasilyeva from Nord Stream's communications department has confirmed to Berlingske the company is in the process of conducting its own environmental and technical analysis of the expansion.
Ready for authorisation
"The application for a permit together with the environmental study will be sent to the relevant authorities for a public hearing," Vasilyeva wrote to Berlingske.
"Right now we are aiming to deliver the application for authorisation in Denmark at the beginning of 2017."