News
Christmas tree sculptures in Copenhagen vandalised
---
This article is more than 8 years old.
Money from the sale of the artworks were meant to help people in Mali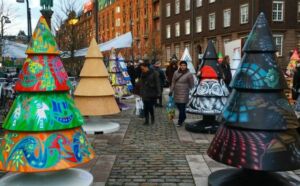 Christmas tree sculptures that were decorating Copenhagen's shopping street Strøget throughout December have been vandalised, reports TV2.
According to Mehdi Triki, the CEO of the Happy Xmas Trees project, at least 12 of the 40 trees were smashed, causing a damage worth of 100,000 kroner.
READ MORE: Christmas trees sprouting up in the middle of Strøget
Fewer trees for Mali
The artworks were meant to be sold at an auction to raise money for Jatropha trees that provide a stable livelihood for the people of Mali.
Triki estimates the Happy Xmas Trees project will plant 30,000-45,000 fewer trees in the west African country than expected due to the vandalism.
Exhibited in Øksnehallen
The sculptures are made of tough fiberglass and were decorated by artists such as Poul Pava, Kristian Hornsleth, Jan Klein and Tina Helleshøj.
All of the trees, including the damaged ones, are now on display in Øksnehallen in Vesterbro, where they will be auctioned off on January 6.
The last time the exhibition was held in Copenhagen in 2010, it raised enough money to plant 72,500 trees in Mali.