News
Pussy Riot coming to Bornholm
---
This article is more than 8 years old.
Members of the Russian activist group will talk about democracy at the next Folkemøde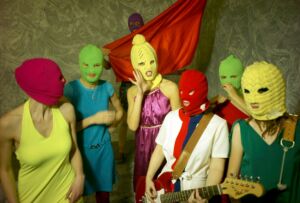 The Russian activist group Pussy Riot is coming to Bornhlom next summer to discuss democracy at Denmark's political festival Folkemødet, reports Berlingske.
The controversial guests were invited to Allinge on Bornholm by the policy network Samuelsen.
Sharing views on freedom of speech
"We believe talking about democracy and freedom of speech is in the Folkemøde's spirit and Pussy Riot contribute with their views on why democracy is important and worth fighting for," Leth Tobias Schmidt, the secretary of Samuelsen, told Berlingske.
Folkemødet will take place from June 16-19, and Pussy Riot are expected to make several appearances on the main stage as well as mingle with Danish politicians and various interest groups.
According to Flemming Splidsboel Hansen, a senior researcher in Russian politics at the Danish Institute for International Studies, inviting Pussy Riots to the festival will not do any good to the relationship between Denmark and Russia.
New song about refugees
The feminist punk rock protest group attracted international attention in February 2012 when they performed a happening against the Russian Orthodox Church and President Vladimir Putin in a cathedral in Moscow.
Two members of the group were charged with hooliganism and subsequently sentenced to two years in prison.
The protest group was founded in August 2011 and has about 11 female members.
In November, Pussy Riot released a controversial music video for their song "Refugees In," which is dedicated to refugees arriving in Europe from Syria and other war-torn countries.