Business & Education
Holy cow: the public's favourite bovine was the cream of the icons
---
This article is more than 7 years old.
Arla's 'Karoline' adorned our milk cartons for four decades, revolutionising the kitchens of our homes and promoting our dairy products abroad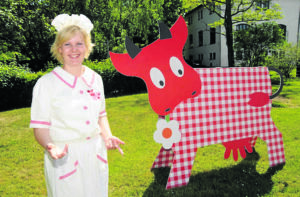 Newcomers to this country might think its kitchens were filled with nothing but the delightful, seasonal treats of the orchard, the Baltic and wilderness.
So it might surprise them to learn that before the Nordic cuisine movement, there was one cookbook that dominated the kitchen shelves: 'Karolines', a brand created by national dairy co-operative Arla back in the early 1960s.
Taking the battle to margerine
In 1957, exports of butter from Denmark to the UK were suddenly and dramatically cut, resulting in an ever-rising 'butter mountain' back home. In an attempt to reduce the surplus, dairy co-operative Arla introduced the Karoline brand: a name that was to be known in almost every Danish household for the next five decades.
'Karoline girls' became ambassadors across Europe, recipes were passed between neighbours and relatives, and Karoline the Cow became the mascot of the dairy-rich Danish kitchen.
The importance of the 'Karolines Køkken' (Karoline's kitchen) brand to ordinary Danish life in the second half of the 20th century was significant enough for it to be studied by historians.
A large role in Danish food
"Karoline's Kitchen has played a very large role in Danish food culture from 1962 to now," Niels Kayser Nielsen, a cultural historian from Aarhus University, told Danish website foodculture.dk in 2012.
"I think personally that 'Karolines Køkken' is one of the few Danish brands to have achieved icon status. The aim was to make it a part of Danish culture – one that consumers actively seek out, rather like how Michelin is in France. Karoline's Kitchen is an active part of most Danes' history and filled with memories. There are not many other brands that have enough substance in their past to fill an exhibition at a recognised museum."
Inspired by her curtains
Karoline the Cow was the creation of Aarhusian graphic designer Grete Rich, who reputedly used her own kitchen curtains to make the red and white checked body of this beloved farm animal, complete with a red and white daisy dangling from her mouth, that was to become known the land over.
Karoline the Cow made her debut at Tivoli in 1958. Clad in her red and white checked material and the size of a real cow, the mascot was introduced onto the stage by no less than the prime minister at the time, HC Hansen.
After some tweaking later in the year, the design made its way onto milk and cream cartons and into adverts, appearing as its familiarity increased on everything from recipe books to key rings and ballpoint pens. The cow's name was to be the springboard for an entire brand.
Milkmaid nurses
Next to arrive were the 'Karoline girls', six young ambassadors who were trained by Arla and sent to Germany in 1961 to promote Danish dairy products outside of the country, thus marking the debut not only of the 'Karolinepige', but also of the Karoline uniform, which looked something between that of milkmaid and nurse – with Karoline the Cow appliquéd to the left breast.
'Karolines Køkken' came later, in 1962, taking its name from the still-popular cow and containing recipe books and ideas for average families and housewives. The influence of these recipes has been significant enough for several historians and cultural critics to credit Karolines Kitchen with teaching Danes how to cook.
The Karoline brand was not the only place where milk products were promoted, however. Denmark's first ever TV cooks, Conrad and Aksel (Conrad Bjerre-Christensen and Aksel Larsen), helped butter fly off the shelves with their slogan 'Use butter, we do'. And between 1966 and 1976, their butter-heavy recipes dominated their hugely popular television show – until, that is, they were fired for endorsing the product for money.
Though the Karoline brand continues to this day, Karoline the cow disappeared sometime in the '90s. Her 'mother,' Grete Rich, meanwhile died in 2001, at the age of 93.
You might want to have a look in the attic for any old Karoline memorabilia. Its status as a collector's item was cemented at a recent auction held by art dealers Bruun Rasmussen in Vejle in Jutland, where a wooden figure edition of the cow sold for 2,000 kroner.