News
New rules for travel into Sweden take effect
---
This article is more than 7 years old.
Travellers now required to show a photo ID before entering Sweden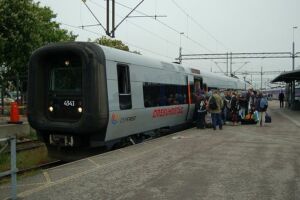 At midnight, new rules kicked in that require the majority of people travelling across the Swedish border by bus, ferry or train to have a valid photo ID.
Denmark's state rail operator DSB is now checking the identification of everyone taking the train to Sweden.
At the train station at Copenhagen Airport, it has set up 34 ID-control stations, and all travellers to Sweden are now required to change trains at the airport and pass through the controls.
Longer travel times
The expected travel time to Sweden will increase by between 10 and 30 minutes, and only the Øresundstog will run to the airport.
DSB could not say how long the controls will be in place for, but did reveal that its increased costs could eventually be passed on to travellers in the form of more expensive ticket prices.
There will be no ID checks for those travelling from Sweden to Copenhagen Airport, though.
The train/ferry trip from Copenhagen Central Station to the island of Bornholm has also been impacted. A non-stop bus will replace the service and passenger IDs will be required before boarding in Copenhagen.
To ID or not to ID
Those taking the ferry to Sweden will also need to carry photo IDs, as Scandlines will conduct ID checks on the trip from Helsingør to Helsingborg.
"We encourage all our guests to have their ID documents ready for inspection," said the company.
There will be no ID checks on the routes from Grenaa to Varberg and Frederikshavn to Gothenburg since the Swedish requirement for ID checks only applies to routes that are less than 37 km long.
Bus travellers will also be required to carry photo IDs, and most companies will be checking passengers before they board the bus.
Authorised IDs only
Photo IDs must be an official document bearing the holder's photo, full name, personal number or birthday, signature and information certifying the validity and issuing authority.
READ MORE: Sweden to refugees: 'We'll close Øresund Bridge if necessary'
All passports and driving licenses from EU and EEA countries that include the above information are acceptable.