News
Southern Jutland mayor wants controls along the border with Germany
---
This article is more than 7 years old.
While most eyes are looking north, mayor agrees with Rasmussen that southern border needs protection as well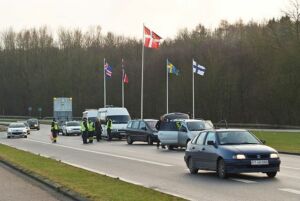 Laurids Rudebeck, the mayor of Tønder in southern Jutland, agrees with a suggestion in PM Lars Løkke Rasmussen's New Year's Day speech that Denmark should check the IDs of travellers crossing into Denmark from Germany.
"Otherwise, there will be a backlog of asylum-seekers in Denmark," Rudebeck told TV2 News. "Other countries are doing it – it's unfortunate but it is necessary."
PM promises "order"
In his speech, Rasmussen said that Denmark should follow Sweden's lead and strengthen border controls.
"This could create a situation in which we must introduce border controls at the German border, if we determine that it is best for Denmark," said the PM.
"We will not again see migrants and asylum-seekers on our roads. We will ensure calm. We will ensure order."
Rudebeck agreed with Rasmussen's assessment.
"I think it would be totally justified if he chooses to introduce border controls tomorrow," he said.
Slow and steady
Thomas Andresen, the mayor of the southern Jutland town of Aabenraa, believes that border controls will be introduced.
"I imagine they are imminent," he said.
READ MORE: Hundreds of unchecked refugees crossing German border on buses provided by DSB
Andresen is pleased, however, that the government has been taking its time about introducing border controls.
"We have to work intensively to solve this problem internationally," said Andresen.
"If this becomes a permanent border, it will costs jobs in my municipality, so I will fight to ensure that we create a framework that the borders can again be opened."