News
NY speeches: Lars and the regal girl
---
This article is more than 7 years old.
Terror and refugees the focus as the PM and the queen address the nation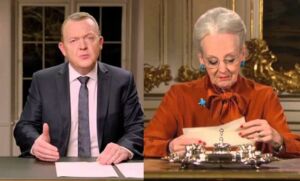 ---
Lars Løkke Rasmussen
Job: Prime Minister
Age: 51
When: Jan 1 at 19:15
Where: Marienborg
How long: 15:55 minutes (mostly autocue)
Main focus: terror in the world, refugees in Denmark, border controls, tax breaks for companies and professionals
Appearance: charcoal grey suit and tie, stern expression
Main points: Tribute to 'Dane of the Year' Dan Uzan and victims of terror the world over; border controls in Germany; a need to balance idealism and realism with respect to how many refugees Denmark can accommodate; pride with regard to Denmark's improving economy; new tax breaks for the private sector and working professionals; the EU referendum vote; and the need for politicians to listen to the country's citizens
Sample quotes: "For let us be honest with each other – we are challenged: it challenges our economy when we need many additional billions on asylum seekers and refugees. It challenges our cohesiveness when there are many here from very different cultures."/ "We must all take care of Denmark." / "Fewer Danes shall be supported by the public, and more people shall support themselves."
Bloopers: None that we could make out. Though his tone was stern throughout – and bordered on angry a lot of the time.
---
Margrethe II of Denmark
Job: Queen
Age: 75
When: Dec 31 at 18:00
Where: Fredensborg Palace
How long: 11:29 minutes (read from notes)
Main focus: terror in Europe, refugees, Prince Henrik's retirement
Appearance: festive, burnt orange dress with turquoise and gold accessories; hair up in a chignon
Main points: Tribute to terror victims in Denmark, Paris and all over the world; a need to look to the future for hope and not give into despair or anxiety; a need to figure out how best to help refugees arriving in Denmark and how many can be helped; Prince Henrik's decision to retire.
Sample quote: "No man is an island, we are all part of one whole." / "My husband has decided that now is the time for him to 'slow down' – to, if I may say it in plain Danish, to retire."
Bloopers: Queen Margrethe struggled at points during the speech and seemed to lose her place often. Two minutes into her speech, she skipped over a page about Denmark's need to help the refugees arriving at its borders and had to go back and read it a few minutes later, breaking the continuity just a wee bit.