News
Media speculation over Prince Henrik's activities in full swing
---
This article is more than 7 years old.
Royal House explains that the prince's car was parked in connection with a trip to the cinema, not a sex club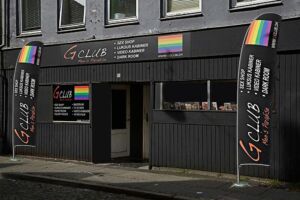 The Royal Family has released a statement to explain why Prince Henrik's royal vehicle, 'Krone 121', was spotted in front of the swingers enterprise 'G Club' in Aarhus on 23 December.
"It is true that on 23 December, 'Krone 121′ was briefly parked on Paradise Street while the driver went with the Prince Consort into the cinema Øst for Paradis, where the Prince Consort and some friends saw the film 'Macbeth'," the Royal Family's communications department wrote in an email to Metroxpress.
The Royal Family was in Aarhus celebrating Christmas at Marselisborg Castle. And the cinema has confirmed that Prince Henrik and three friends attended a late afternoon showing of 'Macbeth'.
Poor parking job
Emil Tanghøj Munkholm, a 22-year-old student, was on his way to work at a cafe in the area when he noticed the car parked in unusual way in front of the G Club, which is located next door to the cinema.
"I like cars, so I noticed the odd parking – it was parked way up on the pavement," said Munkholm. "When I noticed the licence plate, I couldn't help but chuckle at the fact that it was one of the Royal Family's crown cars."
Well swung
When questioned, Michael, the owner of the G Club, seemed to be aware of the prince's car being parked on the pavement, but refused to comment on the case in deference to the confidentiality of all its guests.
Michael did say that the G Club was a well-known and attended club.
"There are both young, middle-aged and older customers," he said.
"Some are tourists staying in hotels in the city. There are many bis and homosexuals, but there are also heterosexuals who use video booths."