News
Five asylum-seekers attempted to get to Sweden through the Øresund tunnel
---
This article is more than 7 years old.
Swedish police worry that Øresund link will turn a Nordic version of the Channel Tunnel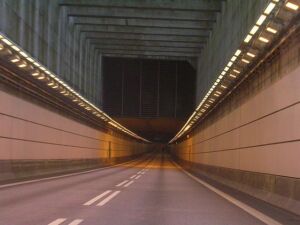 Five asylum-seekers tried to cross the Øresund bridge tunnel link on foot on Sunday evening.
Just before 10 pm, motorists reported they had seen five people on the E20 motorway heading towards Sweden.
"Officers apprehended five pedestrians walking with backpacks on the Øresund motorway," Steen Harpsøe from the Copenhagen Police told DR Nyheder. "They turned out to be five asylum-seekers – an adult and four minors, all registered asylum-seekers in Denmark."
The police would not confirm that the five people were headed to Sweden.
"Our main concern is safety," said Harpsøe. "It could be deadly to walk on the motorway."
A dangerous route
The Swedish authorities were not happy about the incident.
"It may be the beginning of a new trend," Ewa-Gun Westford, a spokesperson for Scania Police, told Swedish state television SVT.
"We know that asylum-seekers try to go through the tunnel under the English Channel."
Refugees and migrants by the thousands have attempted to cross the English Channel via the tunnel from Calais in France to southern England.
The French authorities have stepped up security at the tunnel to try and prevent people from making the highly dangerous crossing.
More security
Sunday's incident is the first attempt of its kind reported by Danish police. Harpsøe said that beefing up the security on the Øresund link is now being looked at.
"We are aware of the situation, and I would prefer not to go into specifics, but it is clearly something we are considering," he said.
READ MORE: Swedish coastguard stops two men crossing the Øresund from Denmark in a stolen inflatable boat
The five asylum-seekers were transported to Sandholm refugee centre.