News
Danish pensioners second most active holiday-goers in the EU
---
This article is more than 7 years old.
According to experts, they are in good shape and have the money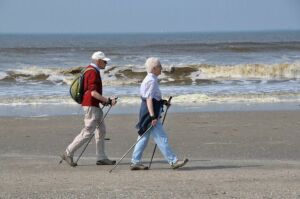 The Danish elderly travel abroad far more often than their peers in the rest of the EU, according to figures from Eurostat.
Some 33 percent of Danes aged 65+ spent at least one night in a foreign country in 2014, while the EU average was 9 percent.
With the exception of Luxembourgers, who topped the list (see below), Danish elderly were the most prolific travellers.
The Danes also ranked highly for longer holidays, with 28 percent of the Danish elderly spending a minimum of four nights abroad in 2014, while the EU average was 8 percent.
Good economy and health
Anne Leonora Blaakilde, a cultural researcher at the University of Copenhagen, attributes the Danish elderly's wanderlust to better economy and health.
"Many older people are very interested in culture and history and want to travel and experience as much as possible while they are still able to do so, and they are not afraid to take off to new destinations," Blaakilde told KL.
In contrast, only 1 percent of the elderly from Bulgaria and Greece spent at least one night abroad in 2014.
Charter holidays preferred
According to Peter Rindom, a senior consultant at Ældre Sagen, most Danish retirees prefer charter holidays, but longer trips with a focus on experiences in culture, history and cuisine as well as active holidays like hiking are also gaining ground.
Figures from Statistics Denmark show that in 2012, Spain, Sweden and Italy were the most popular destinations.
Most Danish elderly prefer to travel in the spring and autumn, when temperatures are not as high and hotels not as crowded as they tend to be in the summer.