News
Let loose the dogs of sport!
---
This article is more than 7 years old.
It wouldn't be January without another handball tournament. This time around it's the men's European Championship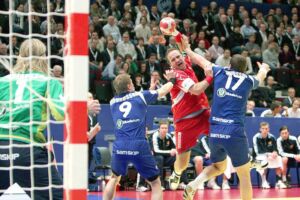 Starting today, one of Denmark's most popular sports will dominate the TV schedules over the second half of January.
The 2016 European Men's Handball Championship, which this year is taking place in Poland, will once again provide a welcome distraction to a nation dogged by cold weather.
Most Danish sports fans will be staying indoors, sitting back and enjoying the action on TV2 (the games featuring Denmark) and TV2 Sport (all other games).
An esteemed pedigree
Denmark has always loved handball, almost like a son. In fact, the sport is actually of Danish origin thanks to a gym teacher who published the first set of rules in 1906.
And not only are they the most experienced in handball, the sport is a national favourite. One of the best players in the world is Denmark's very own Mikkel Hansen, voted the best handball player of 2011 by the International Handball Federation.
And Denmark brings a proud record into the 16-team biennial tournament, which has seen it qualify for the semi-finals in six of the last seven editions, lifting the trophy twice (in 2008 and 2012).
A great sport for TV
It's been said before, but televised sports can often suffer due to the distance between the cameras and the viewers.
Handball, however, does not have this problem. The small playing court and the close-up cameras ensure everyone can follow what is going on during a game.
One of the favourites
As 15/4 second favourites (Bet 365), Denmark are expected to make the final, although they will face tough opposition from four teams: favourites France (13|8), Spain (9/2), hosts Poland (11/2) and Croatia (7s).
None of the quartet are in Denmark's group, in which it faces Hungary (25s) on January 20, Russia (80s) on January 16 and Montenegro (500s) on January 18.
Every game is crucial as Denmark will take two of its results into the second group phase, in which it will play a further three games and need to finish in the top two to qualify for the semi-finals.
The winner automatically qualifies for the Olympics.