General
Out and About: Frederiksberg RK – where rugby dreams do come true
---
This article is more than 7 years old.
City-based union club is a mecca for internationals and always looking for new players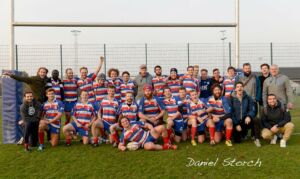 Frederiksberg RK, the country's reigning rugby union champions, are already training in preparation for the defence of their title.
"We're shaking off the excesses of Christmas and getting back into shape," explained captain Birk Mygind Grønfeldt.
"We're doing a lot of running at the moment. It's not our favourite kind of training but it'll pay off in the spring. It's also a great opportunity to catch up with the guys and see some new faces."
In November, FRK won their first title since 2005 with a mix of Danish players and other nationalities – from England, France, Scotland, Ireland, Australia, New Zealand, Germany, Romania and Argentina. It was an inspiring turnaround for a team struggling to compete in recent years.
"I was impressed at how fast we managed to form a cohesive team," said Eugene Hanrahan (centre bottom), the 2015 Player of the Year. "We've been unfortunate to lose some key players at the end of last season, but we're ready to rebuild with some newcomers."
Several players joined the club over the last couple of months.
One of them is Erwan Caquineau, a 24-year old from France who recently moved here.
"Joining a rugby team is the best way to make new friends in a new city," he said. "I met the team the day I landed and felt immediately welcome. This made my integration incredibly easy!"
With these new players, the club will field two men's teams in 2016 and allow more game time for beginners and juniors making their way through the youth teams (ages 3-18). They will compete on Saturdays alongside a women's team that scooped second place in their league last season.
Training sessions are held on Tuesdays and Thursdays at Nandrupsvej 10, Frederiksberg, only 5 minutes away from the Frederiksberg and Fasansvej Metro stations. Training is open to juniors (from 17:30), women (from 18:00), and men (from 18:30).