Business & Education
Hans off our island!
---
This article is more than 7 years old.
Canada and Denmark's ownership dispute dates back decades: nations have gone to war over less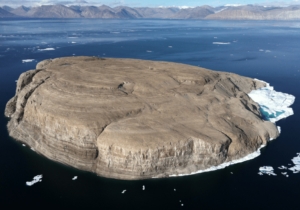 Perhaps one of the strangest ongoing land disputes in history exists between Denmark and Canada.
What's one lost kidney?
In the northern reaches of the Kennedy Channel at the mouth of the Arctic Ocean, there lies a relatively indistinct chunk of rock known as Hans Island. Kidney-shaped and sandwiched between Greenland and Canada's Ellesmere Island, this remote island, which is only 1.3 sq km in size, contains no worthwhile mineral or chemical compounds.
Nothing grows on it, there's little fishing to speak of and no inhabitants of either country have ever lived there … and yet, for several decades now, these two governments have been engaged in political posturing and a tit-for-tat war of words, flags and bottles.
A long-running joke
At a time where the climate is heating up, ice caps are rapidly melting and new shipping routes are being forged, the ownership of the Arctic Ocean is being disputed in ever increasing urgency by the five coastal claimants (US, Russia, Norway, Denmark and Canada).  And it would appear that the historical dispute over Hans Island can be viewed as a bizarre microcosm of the race for Arctic dominance.
The irony being that although the Arctic promises new gas and oil reserves, Hans Island itself promises nothing of the sort. It is utterly barren, so why should anyone care about it?
One imagines that, more than anything, the island symbolises for both countries their geo-political clout. If either country backs down now, what will happen to their international authority and/or claims elsewhere?
Activists on both sides have tended towards hysteria over the matter, with Danes crying (somewhat ironically) 'imperialist occupation' and Canada whining about the threat to their sovereignty. On the other hand, most media on both sides regard the matter as a bit of a joke.
The Canadian who was a Yank
Canada fervently maintains that Hans Island is theirs, although their original claim, made on the grounds of their historical occupation, has been disproven. The Canadians claimed the island was named and discovered by a British man, and that it was technically theirs as they acquired all of Britain's Arctic territories.
However, that man was later proven to be an American, Charles Francis Hall, the captain of the Polaris, who both discovered and named the island after his Greenlandic guide, Hans Hendrik, on 29 August 1871.
Tartupaluk before Hans
The Americans gave up their claim on Greenland in 1916 after paying the Danes $250 million for a group of Caribbean islands that are now known as the United States Virgin Islands. It was following this event that Denmark was able to extend its influence north, over the whole of Greenland.
Furthermore, the Inughuits, a tiny group of Inuits from northernmost Greenland (accounting for 1 percent of Greenland's population), had long since had their own name for the island, Tartupaluk, which in their tongue denotes its kidney bean shape.
Sharing responsibility
Often in resolving an ownership dispute, a major factor is how the claimants make use of the land. While there have never been any inhabitants on the island, it's likely that many centuries ago, as far back as the 1300s, Inuit settlers first started using Hans Island for its high vantage point during hunting expeditions. However, Greenland wasn't entirely Danish territory until the north was annexed in 1917.
In an official capacity, Hans Island first appeared on a map as a Canadian territory in 1967. That map was, unsurprisingly, Canadian. Six years later in 1973, Canada entered into territorial negotiations with the Danes to divide the ownership of their shared continental shelf. However, it was agreed that these smaller islands should carry no sea territory and that ownership should be allocated separately. Unfortunately, both sides failed to reach an official agreement on a process to achieve this and so the matter has remained unresolved ever since.
A decade later in 1983, the two nations accepted shared responsibility for matters such as marine life and other environmental concerns in the area. They again failed to tackle the ownership issue of Hans Island, but both acknowledged that it was in their common interest to resolve the matter.
Not playing by the rules
At that same time, a shadow was cast over this fragile diplomacy when it was revealed that certain Canadian interests had demonstrated a blatant disregard for agreed etiquette.
The Canadian oil firm, Dome Petroleum from the Northwest Territories (NWT), was at that same moment employing a scientist to research on the structure of the island. Denmark was not notified and Canadian authorities claimed to have no knowledge of the activity.
The oil firm was conducting structural research on the foundations of the island, investigating its time-honoured resilience against the flow of the Kennedy Channel. This was in preparation for constructing its own artificial off-shore drilling islands in the Beaufort Sea.
The scientist was spotted by Kenn Harper, a prolific Arctic historian who is Greenlandic. To make matters worse, upon meeting the scientist, Harper noticed the man was wearing a hat with the words 'HANS ISLAND N.W.T.' emblazoned across it. The scientist had apparently spent the summer there carrying out his research.
A frenzy of flag raising
Following this, a frenzy of flag-erecting ensued, with Denmark's then minister of Greenlandic affairs, Tom Høyem, being the first to plant the Dannebrog on the island on 28 July 1984.
From then on, various parties from both nations repeatedly removed the other's flag and erected their own. Often, in a playful gesture, leaving their national tipple for the next round of visitors: the Danes leaving a bottle of schnapps, of course, and the Canadians a bottle of whiskey.
But in 2005, tensions took a sharp escalation towards something resembling hostility when the then Canadian defence minister landed on the island as part of a tour of military outposts.
Denmark responded with indignation and sent a patrol ship, the HDMS Tulugaq, to assert Danish sovereignty. It was later recalled to ease tensions following the concession of the then prime minister, Anders Fogh Rasmussen, to open negotiations. It was decided that the matter should be resolved by the countries' respective foreign ministers at the UN later that year. It wasn't.
Fresh concessions
Canadian concessions then came in 2007 when new satellite evidence proved that the original 1973 division regarding the continental shelf would have in fact split Hans Island right down the middle.
In 2008, scientists from Australia, Canada, Denmark and the UK gained permission from both governments to install an automated weather station on the island, and finally, in April of this year, a fresh round of ownership negotiations began. The strangeness continues.