General
This week's TV: More like sleep-inducing partners
---
This article is more than 7 years old.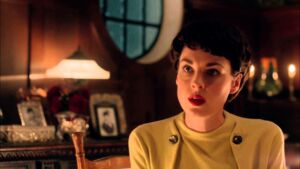 Pick of the week:
Partners in crime
DR1, Mon 22:30
Some say there are good reasons why Agatha Christie's Tommy and Tuppence Beresford were never as popular as Poirot or Marple.
By some we mean the Telegraph, whose review of the BBC's new period mystery called it "watchable" – which doesn't inspire much confidence.
Though most critics noted that David Walliams (Tommy) and Jessica Raine (Tuppence) share a charming chemistry, the script's failings and budgetary limitations keep it from being truly enjoyable.
The effort of condensing Christie's convoluted source material into something resembling a coherent TV script gets off to a shaky start in the first episode, and a lot of the magic goes missing.
The six-part series manages to redeem itself somewhat in later episodes, but perhaps the fact that it hasn't been renewed for a second season solves the mystery of whether or not it's worth a watch
---
Also new:
It isn't immediately clear who the sisters in The Diary of Anne Frank – A Tale of Two Sisters (DRK, Mon 20:45) are.
Eva Schloss became the step-sister of Anne eight years after the diarist's death when her mother married Otto Frank, the co-writer of the famous diary.
For years his authorship was denied, but recently the Anne Frank Foundation claimed it to stop the work entering the public domain. His death plus 70 years would extend the copyright to 2050.
From sisters to brothers, Martin and Gary Kemp of Spandau Ballet, who somehow managed not to fall out in a band dispute over the royalties in 1999 that saw Gazza grab the lot.
Soul Boys of the Western World (SVT2, Sat 21:00) charts the group's rise and fall, and Radio Times contends that "only deep-seated musical snobbery would hinder enjoyment of this definitive, authorised, fastidious,and perhaps overlong telling".
Elsewhere Sex on Wheels (K4, Mon 23:30) explores how people in wheelchairs get laid; Deadly 60 (SVT2, Mon 19:30) presents the world's deadliest animals; Dara and Ed's Pan-American Road Trip (DR2, Sun 20:00) sees Irish comedians Dara O'Briain and Ed Byrne take to the road; and Channel 4 doc series Meet the Police Commissioner (DR2, Thu 23:00) follows a female chief in her first year in the hot-seat in the English county of Kent. (BH)
---
Coming soon:
Billions
If you're curious about what Ted Cruz meant when he called Donald Trump out on his 'New York values', Billions is probably the show for you.
Two of New York's biggest players take each other on when US Attorney Chuck Rhoades (Paul Giamatti) goes after hedge fund king Bobby 'Axe' Axelrod (Damian Lewis) in a show that embodies greed, capitalistic hedonism, wealth and power – New York values, in other words.
The show has received mostly positive reviews, with a score of 69 on Metacritic. The Donald would be proud.

---
Sport of the week:
What the hell is Premier League Darts: Jan Molby vs Eric Bristow (TV3 Sport 2, Sat 16:10). We're intrigued! It's about time the EPL delivered and Arsenal vs Chelsea could be that game (TV3 Sport 2, Sun 16:55). Elsewhere, we've got the NFL conference finals (3+, Sun 20:00) and the X Games from Aspen (DR3, from Thu 23:30), while the Handball Euros (TV2), the Australian Open (Eurosport) and NBA (TV2 Sport) continue. (BH)
---
Film of the week:
How did the Academy overlook The Best Man Holiday, the black version of The Big Chill? Let's hope the cast don't have similar success. Avoid this 2013 version of Romeo & Juliet unless you like your men barely legal like Douglas Booth. People like us is wholesome, Sherlock Holmes 2 (SVT4, Fri 21:30) half-baked, and Life as we know it (K4, Thu 20:00) half-assed. (BH)