News
'Most hated man in Sweden' being deported to Denmark
---
This article is more than 7 years old.
Refused asylum-seeker is charged with attacking a mother in front of her children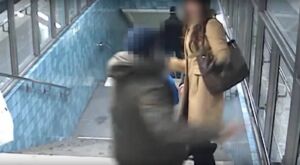 A Tunisian man, who has been branded 'the most hated man in Sweden' after video showed him attacking a woman in front of her two young children and then spitting on her at a metro station in Stockholm, is being deported to Denmark, Expressen.se reports.
The attack took place on January 5 at Gamla Stan station in the Swedish capital. The video footage shows the man kicking and punching the victim after she attempted to prevent him stealing from the handbag of an elderly woman.
To be sent to Denmark
The police went public with the video on Thursday and on Friday he was identified and arrested. It is reported that he sought asylum in Sweden in October but that his application was rejected and the Swedish migration agency Migrationsverket has decided to send him back to the last country he was in before entering Sweden, which is Denmark.
It was staff at Migrationsverket itself who identified the man from the video footage and alerted police to his whereabouts in a centre for refused asylum-seekers in the Stockholm suburb of Märsta. The man is currently in police custody awaiting trial, but denies the charges.
Ekstrabladet reports that, according to Ekrem Güngör, the man's lawyer, the Danish authorities have confirmed to the Swedish authorities that they are ready to receive him.