News
Danish Parliament adopts highly-criticised asylum austerity measures
---
This article is more than 7 years old.
The authorities will now be able to confiscate refugees' valuables and family reunifications will only be possible after three years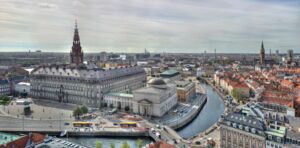 A majority of Danish MPs have today passed a new controversial immigration bill that introduces a number of asylum austerity measures, reports DR.
After weeks of heated debate, criticism and negative international coverage, representatives of Venstre, Dansk Folkparti, Konservative, Liberal Alliance and Socialdemokraterne voted for the proposal.
The new L87 bill will come into force next week after it is officially signed by Queen Margrethe.
READ MORE:Germany follows Denmark's lead and starts confiscating refugee valuables
Violation of human rights
The bill will extend the period that refugees will need to wait before they can apply for family reunification from one to three years.
The Danish Institute for Human Rights has called this proposal "a clear violation" of the European Convention on Human Rights that requires family reunification applications to be dealt with quickly.
The new law will apply to all refugees who have asked for family reunification since March 2015.
READ MORE: Denmark to explain controversial proposal at the EU Parliament
Controversial jewellery bill
The L87 bill also contains the so-called 'jewellery proposal' that gives the Danish authorities the right to seize refugees' valuables upon arrival in the country to help cover expenses related to their stay in Denmark.
The proposal has received extensive international media coverage and has been likened to Nazi practices during the Second World War.
Venstre's spokesperson Jakob Ellemann-Jensen has called the discussion about the jewellery proposal "grotesque" and "obscene".
The bill also tightens the rules on getting permanent residency in Denmark and includes a 10-percent reduction on benefits for asylum seekers and the abolition of the possibility for asylum-seekers to live outside of asylum centres.