News
Smashing deliveries concerning online shops in Denmark
---
This article is more than 7 years old.
Delivery services reject criticism, contending that only 1 in 5,000 arrive broken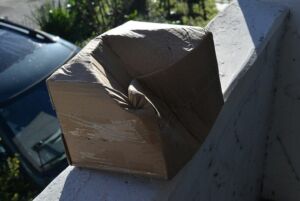 Several Danish companies that provide a home delivery of their online products say that increasing numbers of their customers complain that their goods arrive broken.
A video of a now-sacked GLS driver throwing packages in Sønderborg is apparently not an isolated case.
Several major online shops often experience that their packages get broken on the way to customers.
"What you see in that video happens every day," Lone Simonsen, the head of customer services at Kop & Kande, told Dagbladet JydskeVestkysten.
"We use both GLS and Post Denmark. We have customers who call every day that they received broken merchandise."
Delivery services reject criticism
Jens Simonsen, the webmaster at Bahne, said their customers also received damaged goods.
"On a monthly basis, we have probably five to six packages that break," he said. "Pictures are especially fragile."
Simonsen said that packaging at the company end is also important.
"A package must be able to withstand a drop from the table where it is packed."
READ MORE: Post Danmark not delivering
However, Post Danmark rejected the criticism of its delivery people, saying there were problems with just 0.02 percent of the parcels it delivered in 2014.
GLS said that it only had problems with 0.01 percent.