News
Copenhagen named 'best city in the world' by design magazine Wallpaper
---
This article is more than 7 years old.
Denmark's capital won against Taipei, Los Angeles, Beirut and Miami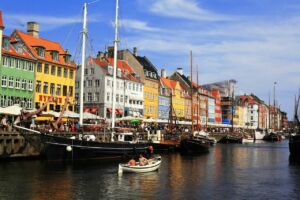 The Danish capital has been named the best city in the world by design magazine Wallpaper.
It triumphed over Beirut, Los Angeles, Miami and Taipei City, which were also shortlisted for the 2016 Design Awards.
The jury described Copenhagen as "growing increasingly extrovert and adventurous".
The magazine especially highlighted the artistic ambience of the meatpacking district of Vesterbro, the gourmet scene in Nørrebro, and the "fertile enclave of creativity" that is Papirøen.
"The latest wave of creatives, architects and chefs has fuelled a renaissance, and New Nordic is the cuisine and design movement of the moment," stated the magazine.
Thumbs up from 'Danish Girl'
According to actor Eddie Redmayne – who was on the Wallpaper jury and spent time in the capital last spring filming scenes for 'The Danish Girl' – "the Danes get it right on so many levels".
"Copenhagen has a vibrancy to it. The food culture is extraordinary and life seems easy, uncomplicated and fun. Who wouldn't want to live in a city where you can swim in the harbour?" Redmayne noted.
Wallpaper magazine is an internationally renowned publication with a focus on design, fashion and travel and readers in 93 countries.
Its awards, now in their 12th year, celebrate the best places, designers, architects and designs.