News
Location of Copenhagen video surveillance cameras to be registered
---
This article is more than 7 years old.
Police say one-year voluntary pilot project will help them fight crime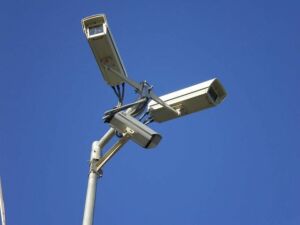 As a consequence of last February's terrorist attack in Copenhagen, the police are asking that the city's private security cameras be registered.
They are asking the owners of the cameras to confirm their location and provide contact details in case the authorities should need to access the video. Police say the footage will help them solve more crimes.
However, the one-year pilot program is voluntary and it is up to the owners of the cameras to report the equipment to the police.
READ MORE: Professor warns Denmark is headed for "digital surveillance hell"
Since last year's terrorist attacks, national police department Rigspolitiet has been researching the best way for police to make use of security cameras, and the result is the program. If it works in the capital, Rigspolitiet would like to see it expanded nationwide.
Cameras helped trap terrorist
Private surveillance cameras helped police trap Omar El-Hussein, the perpetrator of last year's attacks, but reports have emerged it required an enormous amount of resources to obtain the surveillance material and that it was difficult for officers in the field to use the information.
Søren Pind, the justice minister, has been  under pressure to develop a program since a majority in government agreed last year that there should be a camera register.
"First and foremost, we will create an overview," Pind told DR Nyheder.
"We will assess if it is good enough or whether we should expand it."