General
At Cinemas: The Danish Girl is in the house!
---
This article is more than 7 years old.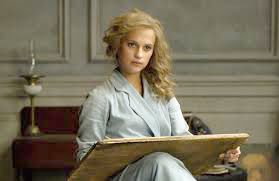 Well, you can't complain about a lack of choice. For starters, there's Alvin and the Chipmunks: The Road Chip, the latest in a franchise already four films old, and Marlon Wayan's (Scary Movie 1-5) Fifty Shades of Black, the inevitable spoof on last year's most lucrative chick flick.
And don't forget The Danish Girl, the latest from Tom Hooper (The King's Speech), which is based on David Ebershoff's bestselling novel of the same name. The consistently uneven Eddie Redmayne is gunning for his next Oscar win, this time playing Einar Wegener, the first trans woman to ever go under the knife. Focusing on the difficulties faced by Einar and his wife Gerda, played by Alicia Vikander, the film has earned favourable to middling reviews.
My top tip, however, is Ex Machina, a 21st century retelling of Mary Shelley's Frankenstein – also featuring the lovely Alicia Vikander – as an alluring android. The film was initially snubbed by Danish distributors last year, but thanks in part to two Oscar nominations and a groundswell of love for this thought-provoking sci-fi, it is receiving a Danish premiere courtesy of Cinemateket. Screening daily from today – see this week's review.
Staying at Cinemateket, there's a season of films starring the late great James Gandolfini (The Sopranos). The program kicks off on Friday at 21:45 with the Coen Brothers' The Man Who Wasn't There – but next week be sure to check out his lead performance in John Turturro's under-appreciated musical Romance & Cigarettes.
Also at Cinemateket, from today (Feb 4-14) you can enjoy recent cinema and live music from Spain's Catalan community at the Catalansk Filmfestival. The festival opens tonight at 19:00 with Behind The Door – an intriguing chamber drama in which a daughter defies her fascist father by fraternising with their young student lodger. Meanwhile, Husets Bio is hosting the final day of the Copenhagen Jazz Film Festival (Feb 4).
Danish on a Sunday is a bi-monthly screening of Danish films with English subs. This weekend there's May el-Toukhy's Long Story Short (2015), which follows Ellen and her friends, a group of 40-something ladies leading complicated love lives. The story is set at a party and told through eight chapters. It starts at 14:15 and an extra 40kr will get you coffee and a pastry. For a full program visit dfi.dk/Filmhuset. (MW)