News
Syrian National Orchestra to open Roskilde Festival
---
This article is more than 7 years old.
After years of being scattered around the world, the group is reuniting to celebrate Syrian music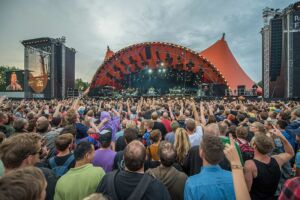 The Syrian National Orchestra for Arabic Music with Damon Albarn and guests will open the Orange Stage at Roskilde Festival this summer.
The 90-strong orchestra, which is led by conductor Issam Rafea, previously played at the festival in 2010 whilst touring the world.
But when the civil war in Syria broke out in the spring of 2011, the orchestra's members fled to different parts of the world and haven't played together since.
The musicians will now reunite for this special event and perform alongside Albarn and other guests to celebrate the musical culture of Syria.
Festival veteran
For Albarn, the opening concert will be his eighth time playing at the Roskilde Festival.
He has previously performed there with Blur, Gorillaz and Africa Express.
The Orange Stage concert will take place on Wednesday June 29.