News
Møn wants to be the darkest place in Denmark
---
This article is more than 7 years old.
Local group wants to be part of the International Dark-Sky Association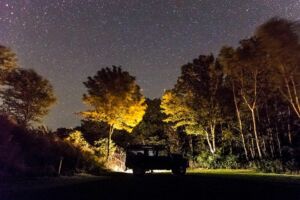 The island of Møn south of Copenhagen is one of the few areas in Denmark where it is so dark at night that stars can be observed without light pollution.
A local group, Dark Sky Møn (DSM), accordingly aims to capitalise on the unique nocturnal ambience of the island. DSM is campaigning hard for the island to become part of the International Dark-Sky Association (IDA), which advocates for the protection of the night sky for present and future generations.
"The quality of the night skies above Møn and Nyord is extremely good by Danish standards," said Tom Axelsen, the head of the Astronomy Association in South Zealand, who is an administrative member of DSM.
"The Milky Way, for instance, is so huge and clear that it even surprises experienced amateur astronomers."
READ MORE: Denmark has less protected nature than the rest of the EU
C'Møn IDA!
Founded in 1988, IDA has approved many Dark Sky areas around the world, totalling some 42,000 square kilometres, and the organisation continues to work towards educating the public and policy-makers about night sky conservation and promoting environmentally-responsible outdoor lighting.
IDA is a global leader in identifying and publicising the negative impacts of artificial light at night on human health, wildlife and climate change.
The map of light pollution in Denmark below reveals there are few public places to observe stars in complete darkness. Møn (circled in red) is one of them.