News
Lars Mikkelsen back in House of Cards
---
This article is more than 7 years old.
Da! Viktor Petrov is back to harass Francis Underwood … or at least his wife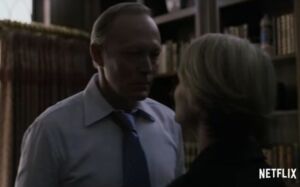 With just 22 days remaining before Francis Underwood and company return with 'House of Cards', Danish fans can celebrate the news that home-grown hero Lars Mikkelsen will return as the Vladimir Putin-esque leader of Russia.
Mikkelsen is back as the no-nonsense Russian president Viktor Petrov in the TV series' fourth season, once again pestering Kevin Spacey's Underwood with political cat-and-mouse mind games and steely charm.
READ MORE: Denmark goes to the movies
March madness
It's unsure how big Mikkelsen's role will be this season, but he features briefly in the series' new trailer (below), making a rather 'bold' approach towards Underwood's wife Claire (Robin Wright).
Aside from Mikkelsen's brief sordid-looking moment, the trailer also reveals some other interesting tidbits and new characters played by the likes of Neve Campbell, Colm Feore and Joel Kinnaman.
The first episode of the fourth season airs on Netflix on March 4.